I made 1000CHF by selling secondhand stuff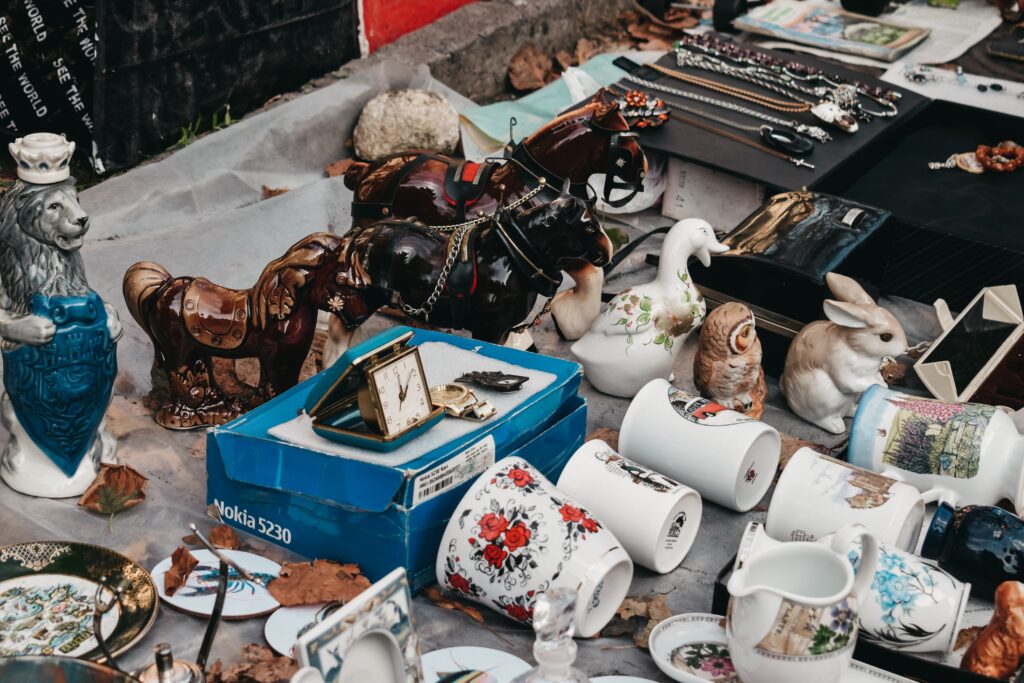 There are many time in life where you will end up with stuff you don't need anymore. You bought something that you end up not using, you want to get rid of stuff before packing for a moving, you had to clean up the place of a relative after they moved out or passed away, kids are growing and you don't need these baby accessories, small clothes or toys, you did a collection of something in the past and loose interest or you just want to declutter your home from old clothes and objects as we should all do regularly maybe you will even end up to live like a minimalist. There might be other reason but for sure you will regularly need to get rid of a few or a lot of objects.
What can you sell?
They are many categories of objects that you might get rid off and if possible sell them for money, some are easier to get rid off, some not, some might get you quite some money, some only a couple of francs or nothing at all. I list here some typical objects that you might sell with difficulty and potential cash you can get out of it.
| | | |
| --- | --- | --- |
| Category | Difficulty | Money 🤑 |
| Jewelry (in gold or silver) | Easy | $$ but always much less than initial value |
| Books | Medium | – unless very rare |
| Smartphone and tablet | Easy | $ to $$$ depending if outdated or not |
| Computer part and laptop | Easy | $ to $$$ depending if outdated or not |
| Other electronics | Medium | $ more if very specific and in very good condition |
| Video games | Easy | $ to $$$$ depending of condition, if rare and old |
| DVD/BluRay | Medium | – they are worthless now, killed by Netflix and co |
| Clothes and shoes | Medium | $ or almost nothing |
| Lego | Easy | $ to $$$ |
| Kids toys | Medium | $ to $$ ($$$ sometimes if from 80-90s) |
| Collectible items | Easy | $ to $$$ |
| Baby stuff | Easy | $$ even $$$$ for some stroller |
| Furniture | Hard | From nothing to $$$$ mostly much less than initial value |
| Kitchen utensil and dishes | Medium | – to $ |
| Tools and appliances | Medium | $ to $$$ for good power tools or electrical appliances |
Money scale: – = (almost) nothing, $ = 5-20CHF, $$ 20-100CHF, $$$ 100-250CHF, $$$$ 250CHF and more
In the following I will list some place and platform to sell your stuff in Switzerland. If you are not living in Switzerland, beside eBay that I mention here and it international, you will find easily some equivalent platform form you country, like Le Bon Coin in France, Subito in Italy or Craigslist in USA. Then you can apply the same method to set your price and select where to sell what as I describe.
1. Second hand store / thrift store / Broki
You find several store selling second hand objects in Switzerland (and all countries I guess). Some might buy your stuff if they have some values, some might give you small discount on what they sell, some only accept donations. The first category is mainly dominated by store chain like CashConverters and Cash&Go but other independent store can be found from time to time. They buy only selected stuff (most of my list up to video games) for quite low price usually but at least you can show up anytime it's open and they will give you cash right away (note that they take your coordinates and check your ID in case you might sell them stolen goods).
You can also find some local shops that accept only specific type of goods, like kids clothes and accessories. For this category I found a website, Kindex, listing some of these shops as well as temporary flea market dedicated to kids stuff, it's not always up to date but you might get lucky. Some get only donation, some buy your stuff right away and some tag the stuff you bring and only pay you once sold after taking a margin. Once again, it's easy, you bring your stuff and get cash immediately or later but they can be picky on what they take or not.
Last category is what some call thrift store, some (Swiss German) call Broki. The most famous store chain is just called Broki from Heilsarmee/armée du salut, another one is Emmaus. But you find many other local ones doing the same, especially in or around large cities. They take a lot of thing, I guess everything from my list, minus some large furniture and printer. Usually they don't give you anything or if they do it's some cents on a loyalty card to buy back some other stuff in their shop, like Heilsarmee Broki that give you 5CHF voucher when you donate (or buy) for about 75CHF of goods. Some of them even off free or paid services to come and pick up stuff at home, especially if you have to get rid of a lot of thing in a short time (empty an home still full of stuff left behind).
Once you have located the closest second hand store or Broki, it's the easiest way to get rid of your stuff very quick but you will almost get nothing out of them.
2. Flea market / garage sales
Similar to second hand store, garage sales are a way to get rid of a lot of things fast and you can make significantly more money as you can fix the prices and even if you sell you stuff directly, negotiate the best price with each buyer (assuming you like negotiating, have a good idea of the value of your stuff and are good at it, some people really hate negotiating). However it involves much more effort on your side, first you have to find a garage sales in your area, then you have to get enough in advance to book a spot and reserve a full day of your time, organize to bring all your stuff and often even your own table to show your stuff properly as it's not always included. On top of that you have to pay a small fee, be lucky with the weather as it's often outside and hope that enough buyers will come to check your stall. On the other side it's a quite fun activity, you can even do it with kids from 6 and up. If you are lucky and offer good object at fair prices you might end up with much less objects and some money in your pocket. I found only one website that list most of the garage sales but it covers mostly Romandie as it's a French website (covering France, Belgium French areas and Swiss French areas). Vide-gernier.org. If you know other for Swiss German and Ticino, please tell me and I will ad the link.
The are also garage sales dedicated to specific categories, like kids clothes and toys, old object or even video games (more and more rare). We even participate in a kids clothes and accessories sales (Kinderkleiderbörsen or bourse aux habits d'enfant) that take care of selling your stuff. You have to tag every object with a small card board attached to it, put an ID number and a price. You bring all your stuff a few days in advance, they gather everything by category and size, then you come back a few days later to pick up the cash minus a fee for every tag they collect by selling your stuff or get you unsold stuff back. For us it was very efficient, we sold about half of kids cloths we brought and got almost 200CHF out of it. It's in between Broki and garage sales, you need some more organization to prepare the objects with tags but then you don't need to stay all day to sell them and with this system they can open the sales for several days to allow any interested buyer to come and take time to look for what they need. Unfortunately since 2020 all of these sales in our area where cancelled due to covid, hopefully it will come back. They are also listed on Kindex or in local newspaper.
3. Anibis / Tutti, free classified ads
The are a lot of online website for classified ads. It use to be the business of newspaper to list these but now everything is online and for free (with optional premium services). After years of user many of these, I must admit that only Anibis and Tutti are really used and working nowadays. In my experience for living both in the French and German parts of Switzerland, it looks like Anibis is working much better in the French part, especially in Geneva and Vaud canton where they have most of the ads. But you will finds objects in whole Switzerland, more in dense area like Bern, Basel or Zurich so don't hesitate to list you stuff there, it's free anyway. Tutti is also nation wide but it looks like it works a bit better in Swiss German area, thus in my experience I was not as successful on Tutti by selling stuff in Midland than in Vaud on Anibis (by listing the same stuff at two different address, we are traveling in between quite a lot), but it might only be due to the area, if you have other experience please post a comment.
It's easy to use, you can do a simple listing for free (premium options allow you to add more picture, be visible on the front page or at the top of the results but I never used them). Buyer can contact you with a form that allow the website to (try to) filter out the spam and scam, then you have to judge by yourself if the buyer is trustworthy, offer the person to come to your place to pick up the goods, especially for large, heavy or very valuable objects, or send it by post. In case you send the goods, you have to agree on a payment method, I like to use Twint as it's instant confirmation but some prefer to do a bank transfer on your IBAN. I offered to be paid in cryptocurrencies many times but never, ever, someone offered to pay in this way. These services don't take any fee unless you buy the premium options but they also don't give any escrow or much support in case something goes wrong between the buyer and seller. You will often get message that try to trick you that money is locked on a fake PayPal website and ask you to send the goods to unlock it, or even ask you to advance some fees to get your money. If you are clever enough to ignore these, you will be fine using these services. Just ask for IBAN bank transfer, Twint (or cryptocurrencies, you never know) as they are all irreversible and you only send the items by Swiss Post once the transfer is confirmed on your side. If the buyer try to force you to use any payment services or delivery services, just stop the discussion and block him. But once you filter out the spam, I had usually quite good experience with buyers (and sellers as I bought also a lot on these services). I try to stay as polite and formal as possible in my ads and communication and it's mostly the case on the other side. Most discussions are friendly enough and goes straight to the point. From time to time you get a message from this guy that ask you a dozen of questions then never replay to you or the one that try to bargain your stuff for half the listed price. Once I listed a pair of jeans for 30CHF + 7CHF shipping and got an offer for 20frs including shipping, I said ok for 20CHF but not with shipping, so 27CHF in total, and I got almost insulted for not accepting his offer. I end up not selling it and gave it to Broki but I prefer sometimes to loose some money than concede to someone that cannot stay polite in his messages. But that was just for the story, most of the time everything went well and I got paid withing days or immediately by Twint and post the package as soon as I can.
Not everything is easy to sell on these services. I mostly sold electronics and good quality baby accessories that can be easily send by post. Also some large objects that sell for cheap and can be picked up at home, like small to medium furniture (kid and adult beds), baby car seats, large or cheap toys. Thus I had no success selling adults or kids clothes, nor DVD and BluRay (these are worthless now), also video games is kind of random and not the best place to sell them in my opinion (see below).
4. Ricardo / eBay online auctions
This is maybe the most famous way to sell your stuff online thanks to the international popularity of eBay and to some extent in Switzerland, Ricardo. It would be logic to start with the most famous platform internationally and ignore a much smaller local competitor but this is not that easy.
Why eBay is not dominating the market in Switzerland?
Firstly because Ricardo was present in the country before its competitor, already in 1998, while eBay only started international expansion in 1999, starting with Germany, Australia and UK according to their website. I couldn't found when they started officially in Switzerland but I guess it was late enough that Ricardo kept the lead for national sales.
In addition eBay.ch is full of disadvantages. First, it was only available in German and still today, despite the fact that their interface is fully translated in many languages including French and Italian, you have no option to change the language to anything else than German, not even English. I even tried to use ebay.fr or ebay.it to list my items, you can login with the same account but then you are stuck when you set the location of the object and the available delivery methods, I guess it's not impossible but you should rather use ebay.ch in German to list you items available from Switzerland. Ebay has also a lot of rules and limitation. Even if you have a very old buyer account with 100% positive content, you will be very limited to sell. You need to link a credit card and/or a bank account, you have a maximum total value of listed items until you get more seller review, I think first you are limited to 150CHF or even less, not sure exactly how it's calculated. Finally eBay has an horrible reputation to always put the seller in fault in case of any clam by the buyer, without even trying to check if it's true or not. In case of clam you will have to prove that you did describe the article perfectly in detail, you might need to send picture of the article in the box, then the box closed with the address of the seller on it and give a proof of delivery (usually not available unless you paid extra for shipping). That's why shipping options might be extremely expensive from seller abroad to send to Switzerland or even not available at all. Finally eBay fee are high, Ricardo has high fee as well but eBay is even higher, with 0.40CHF per item sold + at least 10% of the selling price.
So when should you use eBay?
The only valid reason to use eBay in Switzerland in my opinion is to sell rare, collectible items that might only appeal to niche sellers. With eBay you get a worldwide audience and more chance to sell your stuff at the best price if you think the demand for your object is too low on the Swiss market or targeting more other countries. For a Swiss seller, I would recommend to use eBay only if you are comfortable enough with German and you are selling rare video games, trading cards, CD, vinyl or other collectable items rare to find. I will tell more about defining the value and selling price of your items in a chapter below.
Can you trust Ricardo for your online sales and shopping?
While eBay might not have the best reputation, Ricardo is not completely white neither. The company was bought several time in his history, to end up in the hands of TX Group, also known as Tamedia in the past. It's one of the largest media group in Switzerland, they own a huge list of media in Switzerland like 20Minutes/20Minuten, Le Matin, Bilan, 24 Heures, La Tribune de Genève, GHI, Lausanne Cités, Tages-Anzeiger, Fémina or Télétop Matin. Not what I would qualify as quality press, at least not in my taste at all. They also own or are majority owner of a lot of services like Homegate, Starticket, local.ch/search.ch (did you know they are the same in the background?), Doodle, Zattoo and of course Ricardo but also a kind of competitor with Tutti! It's really not the kind of group I like to support, and I invite you to read this excellent series of articles named Tamedia papers about TX group made by Heidi News (in French) and Republik (in German), you can use DeepL to translate the articles into English if you want to avoid Google Translate. These are two excellent online newspaper that I strongly recommend to try, first article of the series is free then you have to subscribe to the newspaper but they are worth every cents and Heidi News even give one month free to try.
Despite the fact that Ricardo is owned by a company that you might not like to support if you are like me, I must admit that the service itself if far superior than eBay or even Anibis and Tutti. The user experience (UX) is excellent and improved a lot through the years. Searching for ads is very easy and intuitive, results are accurate and can be filtered or sorted in many way. Selling is also extremely easy, much more than eBay. Categories are suggested automatically with a short title or even by uploading the pictures sometimes. You can even select the shipping fee based on price list from the Swiss Post. They don't have any limitation in the total value of your open sales, the basic limitation is 100 items listed simultaneously, you will most likely not reach it by selling second hand stuff and even so you can ask to increase the limit for free if you sold at least 10% of your items in the last 30 days. They offer some protection for both buyer and seller ( in both case up to 250CHF with a franchise for sellers) and don't have such bad reputation to always cover the buyer first.
But my absolute favorite feature from Ricardo, once you have sold an item and you confirm that you got the money on your account or Twint, you can click one button to generate a shipping label with the buyer name and address, your name and address and it's already registered at the Swiss Post, you just have to tape the label on the box and drop it at the Post without paying or keeping trace of the number. If you post it, and only if you do, Ricardo bill you later the shipping cost without any additional fee and send the tracking number automatically to the buyer! I love this features, it makes thinks so much easier when you sell a lot at the same time, like it happens to me when I sold 16 sets of kids clothes with auction ending all in the same weekend, you can see the result below, I used all boxes I found at home, even had to use an empty box of diaper for the last one.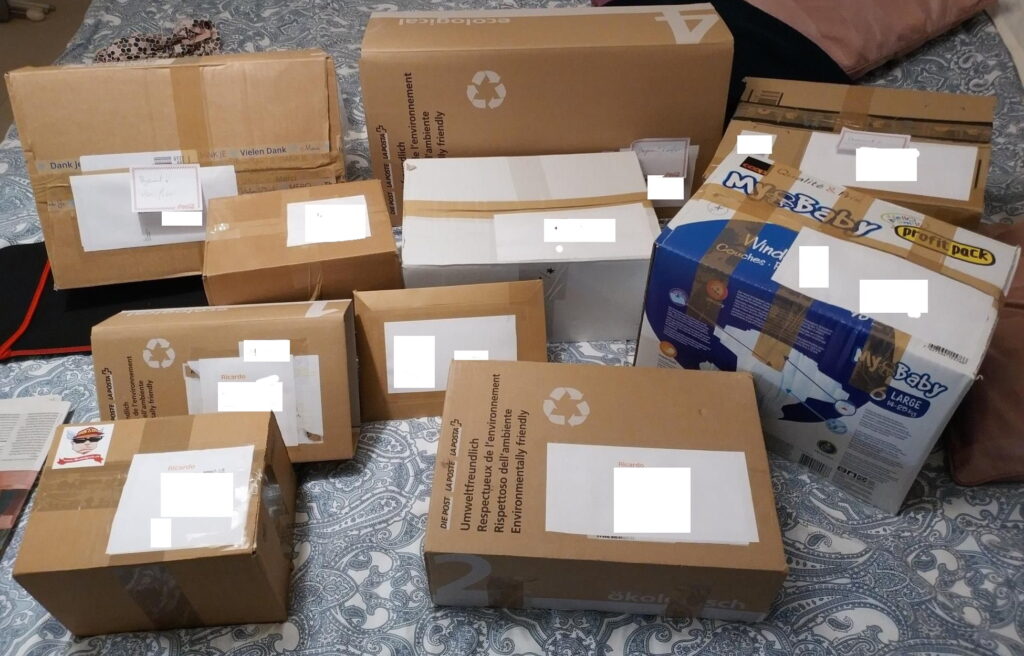 Ricardo is not cheap thus, the fee are almost as high as it's international competitor eBay, with 9% of the sale price (up to a maximum of 190CHF if you end up selling something more than 2100CHF). They will bill you the fees once a month after you reach a certain amount. Beside the cost I'm not sure how much user data they are collecting and how they use them exactly. List the vast majority of online services you expose your data by using them. A quick look at Ricardo privacy policies (hosted on Google Drive 🥺) and you will learn what they collect on you, that is email, username, password (it's not specified if hashed but I hope it is), full name, address, date of birth, phone number, sex (why?) and preferred language (thus it still manage to open in the wrong language for me from time to time even while logged in). Like all online services you should use an alternative email that you don't use for private communication with your friends, family and other real life contacts and if possible add an alias to it like myalternativeemail+ricardo@email.tld, it's supported by many email provider like Protonmail. My only concern is that Ricardo doesn't offer 2 factor authentication for their user accounts, it would reduce the risk to get an account compromised and used to scam people but so far I never spot suspicious ads from stolen account unlike I saw sometimes on Anibis. Beside that I consider Ricardo to be a service safe to use and I hope that they make enough money on fee to not harvest extensively their user data beyond reasonable.
So when should you use Ricardo over the free alternative like Anibis and Tutti?
First I was thinking that Ricardo has a very similar use case than eBay, to sell rare collectible items or electronics items with lot of demand that will rise in auction sales. Of course it's interesting for these, if the Swiss market is wide enough for your item, as you might start at the price you expect to sell your object and end up with a much higher price if several buyers are interested. But you can also sell any kind of article at fix price, in auction without limit and in auction with a direct buy price. It's also interesting to get rid of low value objects that you really don't know how to price, you can start the price very low, even at 1CHF and so you get ride of your stuff much fast with some good surprise from time to time. For example I tried to sell a lot of baby and kids clothes on dedicated market but it get not sold, then I made bundle out of them and listed them at quite low price on Anibis and Tutti but it stays unsold for several weeks if not months. Finally in an act of desperation before giving them away I put them all on Ricardo with a slightly lower starting price, sometimes 1 to 5CHF per bundle, without higher limit and they all get sold at the end of the auction, sometimes at starting price, sometimes higher, many people bought several bundle at once. Same for other accessories and electronics stuff that where listed for months on Anibis and Tutti, they went away in a couple of weeks of Ricardo. My guess is that Ricardo is much closer to a standard online shop, you can click and buy anything without the need to talk to the seller first, so it's much more attractive for the buyers that doesn't want to spend time or are not comfortable to write or call the seller to ask if the object is still available and if the price is negotiable. The auction system might also push sales up as many people are a little gambler in a way and might feel a certain satisfaction to win an auction against other buyers and having the feeling to get a rare items even if they would not have bought it directly if it would be listed that much as a fixed price. Finally the (somewhat limited) buyer protection might help to increase the trust of the buyer. In my experience my sales and purchases went always very well on Ricardo, slightly better than Anibis and Tutti (even if I had a good experience most of the time as well there). Of course I'm careful before choosing an item I want to buy and I'm honest when I sell, once something was not working as intended and I refund the buyer, the person was comprehensive and still rated me positively while mentioning the issue and the refund. I would guess most seller would act the same and if not you can get the coverage from Ricardo to get back some of your money. Anyway from a seller point of view, if you send the item after it's paid, there should never be any issue.
5. Facebook Marketplace and groups
It cost me a lot to talk about a service from Facebook in my blog, but I could not be complete with the selling platform available in Switzerland without talking about Facebook marketplace. As I deleted my Facebook account years ago, before this service was available (at least not in Switzerland), I have fewer direct experience with it. However the marketplace is visible without login to get the first impression and my wife is using it from time to time as well as local groups to sell stuff and could give me her experience for the purpose of this article. But first I cannot continue before reminding what is the core business of Facebook: selling ads very specifically targeted to each individual. And to achieve this, Facebook put quasi unlimited resources in order to attract and keep users on their services as often and as longer as possible to be able to collect as much data as possible, much more than most of its users can even imagine. Every mouse move, every click, every scroll, every touch, how long you look at a text or an image is all recorded and analyzed in order to add more information to your hidden profile. Note that other companies like Google, TikTok and most social media companies have the same or very similar business model. This is one of the reason I don't use any Facebook service for years now and by using one or more of them you must be aware of that and accept it. We can definitely imagine that searching and browsing as well as selling items on Facebook Marketplace and local groups will allow Facebook to collect a lot of personal data on you, your family situation, your finance, taste and much more. Now that we are all clear, let's talk about the services that all you to buy and sell stuff on Facebook.
Marketplace, back to the 2000's
My first impression when I open the front page of Facebook Marketplace is how dated the GUI looks like. It's extremely basic, everything in grayscale and blue, you have a search field, four filters (location, price, new/used and brand) and a list of categories. On mobile you have even less, you have just the search and categories in a popup menu. The ads are aligned on the page with one square picture, a price and the location of the seller. When you click on an ad you get to see the picture in large (with the same picture larger and blurred as a background, I always found this extremely ugly) and more pictures if available, then you have on the right side (web) or below (mobile) the additional information: price, when in was published, from where (with a mini map powered by OpenStreetMap funnily enough), a description and three buttons; send a message, save and share. I know there are not much on Anibis but at least you are on a full and dedicated website, the bottom page offer information about the services, including privacy policies, help and the product page is much more polished, with information on the seller, when he created his account, what other objects he is selling, an ad number (it might seem stupid but to track and give a reference number in the payment, it can really help).
Regarding the sale experience, in some point of view it's similar than Anibis and Tutti, you get directly contacted by the potential buyer, but only using Facebook of course, and have to arrange the sale terms like delivery or meet up, final price and eventual details missing on the item. On difference is that on Facebook everybody is (suppose to) use his real name, while on other platform you can stay behind a pseudonym until you share your real name. It might make you think that people are more polite and considerate but by experience it looks like the total opposite. Probably because it's inside Facebook, where people are used to write fast and short without thinking much and don't care much about how they write as they are used to write to friends and family on Facebook. Often my wife got message poorly written, without hello or hi nor greetings, no capital and not even a single punctuation sometimes. In many case the person ask if the object is still available and then after we answer yes, don't write anymore. Also more often than on other platform we end up with people saying they will come to pick up an object and never come, nor call, while you have to keep on hold other potential buyers. This is also reflected on the buyer side of the experience as some seller are sick of these behavior and start telling that only people the come pick it up first will get it, making you much harder to make arrangement if you are not willing to jump on your car the next minute. I'm not really sure why people behave such differently on Facebook Marketplace than on Anibis, Tutti or Ricardo, maybe it's the GUI effect, that make the user think they are chatting with their friends on Facebook as suggested above or it's just a different demographic that doesn't behave the same. Still we have the feeling that the public is larger than other platform, especially in or around large cities because of pure population density point of view. It can also be added that Facebook tends to show you more ads from your friends, friends of friends and your area than other platform that might filter the ads only as you ask in the search filters no matter who and where you are.
Should I better use groups to sell on Facebook?
Facebook offer also another service that could be use to sell your stuff, the groups. You will find many groups like "Stuff to sell in area XYZ" or more specific about a category of items like "Kids stuff to sell or trade in XYZ". We found very quickly groups not only for kids stuff but also computer part, various collectible and tradable items like video games, cards and even some "expat" groups that end up behind a market place only for "Expat in Lausanne" or "Italians in Bern" where you see local information, event and in the middle stuff to sell. I would not really recommend doing that but if you have a real strong local community in a group, why not give a try if you are sure it will not impact somehow your reputation in this community or group. Overall experience, this is more a hit or miss that depending on the area you live but for object cheaper than a parcel at 7CHF or too heavy to be shipped, it might worth a try if you find the right local group.
Pricing and sell strategy
We have seen several options to sell you stuff in Switzerland. Now you have to define what to sell where and at which price. It is good to have an idea of how much your item is worth and if a lot of people are selling the same or a similar one. First you always start by searching for your item. If you find many it's a good and a bad news. You can look if they are exactly the same and in the same condition, if yes see if the prices are all the same or spread in a wider range. If the price range is very wide, just check if there might be super rare version of your item and standard one that doesn't goes for the same price, but it's more likely for collectible items like video games, trading cards, vintage toys or other old objects in good conditions. If it might be the case, try to find more information about your item online and figure out if it's rare or not, if yes see the section for rare item below. If not and the average price is about what you are will to sell it or higher, just set a price in the average. If you are not in the hurry to sell it and you see that most item are not located in your area, you can try to sell it a bit higher average to attract a local customer that want to avoid post or have the possibility to see the item before paying. If you want to get rid of it faster, you can set a price lower than average or even better as low or lower than the cheaper one you find, so you are sure to be first in line when a buyer will search for it, as you usually sort items by price on these website. In this situation I recommend starting with a free service like
I have a rare article to sell
If you article is not showing up in the already published ads, you might have something more rare. But it might be something rare that nobody have to sell but a lot of people are looking to buy, good for you, or something that almost nobody is selling because nobody is looking for it. To be sure I recommend to not only search on Swiss service but also on eBay (be sure to have worldwide results) and eventually Amazon marketplace or from other countries (France, Germany, UK and US). You can also try to look on Facebook Marketplace by changing your search location to other larger countries (again France, Germany, UK and US are good candidates), however I'm not sure if Facebook will show you the results as if you where really from these countries. From these results you should have an idea if you item is rare and worth money or if it's just rare in your area but found in other countries, then you know the average price.
Apparently I have a collectible item but I have no idea how is it worth exactly?
Sometimes collectible items might be so rare that you don't find the same currently on sale to define the price. For some categories you can find special website that keep a record history of sales for the same item, usually from eBay and Amazon. Especially trading cards like Magic The Gathering, Pokemon, YuGiOh (but note that it's mostly valid for cards in English) and any video games (retro or modern). You would be amaze as well with the value of some objects from the 80s, 90s and 2000s that are still in good conditions (and a lot more with original packaging), like action figures, original Furby, Barbie, Polly Pocket, Tamagotchi, many Disney toys, Coca-Cola merchandising, McDonalds toys, Comics (mostly in English), some vinyls (you have to be more lucky here) or Lego. In fact old or new, Lego are always worth some money, don't sous-estimate them. So if you find old stuff from your childhood that are in goods conditions, it's worth giving a try, see if it's already listed and if not why not try an auction to see how high it goes.
However your DVD, BluRay and CD are probably worthless. If you are lucky someone will buy them by hundreds for a few dozen but unless you have one very specific and rare edition, you are loosing your time trying to sell them. And I'm not talking about VHS. Finally for old furniture and decoration items, they are most likely worthless or in very rare case worth a fortune but it's extremely difficult to price them, here you have no choice than find a professional that you can trust, that could be even harder than guessing the value by yourself as they will want to make money by buying off you valuable stuff at the lowest price.
Great but now where do I sell what?
Now that with have define how to price the different categories defines in the beginning of the article, we have to decide where to sell them first. It's not that complicated and you would have an idea from the search you did for the pricing definition.
Rare and collectible items with relatively high price, you can sell them on eBay if you think that not enough buyers will be interested in Switzerland and if they are already rare on eBay (less than 10 listings for the same objects). If you find already quite a lot on eBay I would try Ricardo first as you will attract Swiss customer (that are super rich like everyone knows) who look to get their items faster, with less shipping cost and more importantly without paying Swiss Customs import fees. You can set a start price more or least around the average price you find depending if it's in good conditions, with all accessories, with or without the original box, etc… and also depending if you are in a hurry to sell them or if you are OK to keep them for a couple of month or more until someone buy it at your price. For these item I would try to keep the auction open without direct buy price, so if you are lucky, some buyer will fight for it and price will go higher than expected.
Items that are rarely listed but apparently not worth a lot of money, so not a lot of potential buyer interested, I would first try to fix a fair price, not too high and list them on the free platform, Anibis, Tutti and possibly Facebook Marketplace if you have a Facebook account. Then if it's not selling after so time (one, two months, up to your patience), I would try Ricardo with very low starting price 5, 10CHF, but shipping cost to be payed in addition of course. Finally if it's not selling either after some time, give it to Brocki or another second hand shop that will accept it.
For all other standard items, that you find some listed and are not worth more than a fraction of the new price, I would set my price either around or below the average price found or between 1/3 and 1/2 of the new price in shop (price you paid for if you bought it new). Then again, first list them on free platform that will not take a cut on your sale, then if not selling Ricardo with same or lower starting price and finally if really not selling, give it away.
Oops, my item is broken
If it's broken, most of the time just throw it away (at the right place in the recycling center of your city or in shops). But not so fast.
Can you fix it easily and it's valuable and usable? Do it and sell it!
You cannot fix it or don't want to bother to fix it but it should be easy to fix and still useful, try to sell it as broken for cheap.
It not fixable but the parts or accessories might be useful. Sell it!
You can have a damage furniture that can be fixed, repainted and sell for a lot more but it takes time. You can sell a broken bike that specialist will fix in a few minutes with a few new parts and keep them or sell them for more. You can sell a broken car, it's always worth something, at least 500CHF if it's starting and without a hole in the floor. You can even sell broken electronics, some people can fix them, some use them for spare part and even some buy the box of object alone to sell the refurbished items they fixed in it. iPhone, Samsung, Sony smartphone and tablet box, video games box and user manual (everything about video games usually sell well, even more if it's Nintendo). Even broken power tools, their accessories and box can have a little value, give it a try.
This is how I made 1000CHF in less than a year
Never underestimate the value of all these items laying around in your house that you never use. They are taking you living place, make you harder to tidy up or clean up, more difficult to find something you really need in your basement/attic or even in your kitchen and eventually will make your life much harder next time you have to move or want to fully clean you house. Go around your home, find anything you don't need and don't want anymore and see if you can sell it, if not give it away and even if it's broken, check if you can get something out of it and if not throw it away to free up the space. This year we made already a thousand francs by selling stuff.
Yes 1000CHF, in 9 months. I had to double check this figure in my accounting file because I couldn't believe it, and then I change the title of the article accordingly because it was so much more click-bait than "how to sell you stuff in Switzerland". We sold a lot stuff worth 10 to 30CHF, even some worth 1 to 3CHF plus some worth 50CHF (3 video games worth 50CHF each) and a couple worth 100CHF or a little more. When I add up everything, it's quite some money you get back to get rid of stuff cluttering your home, you win on both side in the operation.
If you like my article, don't hesitate to leave a comment, tell me how much money you made by selling your stuff after your kids grown up or before moving to a new home or just after cleaning your home deeply. Maybe you find some treasure that you could sell for a lot of money, it would be a nice story to share.
Also if If you like this post, be sure to subscribe by RSS and follow @eluc on Mastodon or @ElucTheG33k on Twitter to not miss any future post.