Best free banking services with debit cards
How much do you spend for your bank account(s) and credit card(s) in Switzerland? Probably too much. Since I have a bank account, I was 14 year old, thus it wasn't technically a bank, it was a Young account at Postfinance that was free and come with a deal on a shiny pager (if you are too young, check here what's a pager). I kept the account for as long as it was free and then moved to a student account in a big bank that were accepting students longer than Postfinance. Then I had a free bank account with a free gold credit card (the gold credit card with the lowest limit you would have ever seen) that was negotiated by my first employer. Then came the moment to have a shared account with my wife and the cheapest we could find was 3 CHF per month. But what I missed is how much we were getting ripped off on exchange rates and credit card fee for abroad transactions and mostly online transactions in foreign currencies. Fortunately I quickly discover some new solutions and today we have several options to compare or complement various usages.
The complexity of fees
My original plan was to make spreadsheet tables to compares all the fees and so on, and I did it, even if it's not 100% accurate for all scenarios. The reality is that the fees for all banks and services are extremely complex, if not to understand, at least to calculate for a whole range of scenarios. Some have fees per usage, some have fee in percentage or a combination of both with conditions, some have limits with different conditions. Even if I was quite comfortable with all of this and I'm used to do complex calculation sheet, I figure out that when you are in front of the cashier, in holiday, you have melting ice creams in one hand and kids are already staining their shirt with chocolate, what will you decide? Should I use this card because the exchange rate is better? How but I did this transfer this other day, so I might be charged an extra for going over the monthly limit, so I should use the other one. But wait, we are Sunday, bank are closed, there is this extra 0.5% fee on the exchange rate, did I convert enough euros in advance to not having an instant exchange rate at premium.
You got it, there might always be a way to optimize your banking fees to the last cents but at which additional complexity? Fortunately now with all the competition in the space you have at least a couple options that will be so much cheaper than any traditional banks in the place (and don't fool us with your fancy app for young that end up with not so interesting fees). So I made a short overview of the options, which one to eliminate and which one to consider in one or two typical scenarios. And even if you are one of the rare person to be in a untypical scenario, it must be enough for you to find out a good option for you, with maybe slight additional research to confirm some details.
The pioneer in the space
Revolut is probably the most famous name in this new banking space, based in UK. They started in 2015 and I had my first card shortly after. Then they stopped being accessible to customer with a residency in Switzerland, around 2017, but they were not very regarding with address verification, so I changed my address to some relative in Italy (I could have made up an address completely, they would have not check it at all at the time) and could continue to use it until it was available back to Switzerland (probably a year later or so). The concept is to make banking extremely simple and cheap, while technically they don't have a banking license (they do apply for one in January 2021). You do everything using a mobile phone app, account creation, ordering of physical card, transfer, currency exchange and even customer support. The account is free, the virtual card (to pay online) if free, the physical card is 5CHF delivered to your home and you get several personal accounts in various currencies with an IBAN at your name, like CHF, EUR, USD and GBP, in order to send and receive money internationally. But the most important feature of the product is the very low exchange rate, based on the inter-banking exchange rate and that is the key to all these new services, that revealed the astronomical exchange rate margin that all other bank are charging their customer on top of other fees most of the time!
In the beginning Revolut came up with a very simple products and added several new functionality along the years but unfortunately they also reduces some limits and made some fees more complex. Are they still the king in the place?
The competition
Revolut was getting momentum and stealing customers, or at least the most lucrative transactions of their customers, as most people kept their main bank account in a traditional bank, especially one from their own country. So others figure out there was some opportunities to step in. In Switzerland we have seen Neon, Zak (from Bank Cler, ex-Coop Bank), CSX (from Credit Suisse) and more recently Yuh (from SwissQuote and PostFinance). Internationally many others are on the market now, the most interesting and famous are maybe N26 and Wise based in Germany and UK respectively. Some offer additional features, like stock trading for Yuh or the trust and physical network from a large bank for CSX and Zak. But the Swiss contended that really stood out recently is Neon.
First I will eliminate option based on traditional banks, CSX and Zak. While they could be a valid option for use in Switzerland only, you will still face a huge margin fee on the exchange rates as soon as you pay online for a product or use you card abroard. Sometimes you can find the exchange rate on the bank website, sometimes it's more complicated to get it, especially to know it in advance but according to my research, experiences and calculation the margin on the exchange rate is between 1.75% (like at Raiffeisen) and 2.75% (at UBS). CSX from Credit Suisse and Zak from Cler are both in this range and it's still a huge margin that is sometimes add by other fees. And credit cards that you might pay for at the bank or get it for free with Migros, Coop, IKEA and many others, have the same issues, thus some of these free credit cards should not be neglected for usage in Switzerland as they don't have fee on CHF purchases in Switzerland and can give other other benefits but it will be covered in another article.
Just to understand why we should fight on these exchange rate margin and additional fees. Making 100 purchases abroad for a total of 2000CHF (20CHf per purchase on average, it might be worst with lower among) will cost you between 0 and 155CHF of fees in total! And most of the time these higher fees comes from a bank that made you pay every month for your account, so you have to count that on top of it.
The final contenders
I have come down to 3 possibles options that should cover most use cases. Neon, Revolut and Wise. You will most probably never need to have all three of them, sometimes one or two will be enough but it doesn't matter much are they are all free to use, I mean they have no fixed monthly fee associated with your account, only some usage might come with some fees. I will cover several scenarios that will help you to decide which one(s) are the most suitable for your. I start with Neon as it's the one based in Switzerland and then Revolut and Wise based in UK but both accessible to Swiss residents.
Scenario 1: Spending in Switzerland and abroad
With all of these services you are able to top up CHF (mostly with a bank transfer, cash top up is not possible) on your account and use it for purchase in store or online. If you get your income in CHF from Switzerland or if you have another bank account in CHF from were you can send CHF, these three services will allow you to receive and keep CHF on your account. Then when you made a purchase in CHF (most probably in Switzerland, see below), you pay with your card and get debited instantly from your account in CHF without any fee. When you made a purchase that is not in CHF, it could be EUR, USD, GBP or most of the currencies you can find in the world you will have an exchange rate applied. The based exchange rate is either the inter banking rate (Revolut) or the Mastercard reference rate (Neon and Wise), the later is taken as an average of the day from the market, while the inter banking change all the time for the exact current rate while stock market is open. In the principle the variation between the two should be minimal and would compensate in one direction or another every time you made purchase, in final we talk about a couple of cents that are not predictable and you shouldn't bother about it as in long term, on average it will end up the same. But here Revolut has 2 huge disadvantage over Neon and Wise.
1. Revolut has a limit of free inter-banking exchange rate of 1250CHF per month. Above that you are charged an extra 0.5% fee.
2. Revolut apply an additional fee of 1% while the stock market is closed (officially it's to cover a possible variation while the market if closed but I don't think this explanation is valid).
Because of these two additional fees, it makes Revolut slightly more complex to use just for payment by card and might end up with quite significantly higher fees if you are above the limits and/or spending mostly on weekends. Even so Revolut has other advantages, we will cover in other scenarios.
Both Neon and Wise allow you to spend you money in foreign currency in any countries at the best possible exchange rate without any additional fee. My preference as a Swiss resident would be to select Neon as it's a Swiss company and they are using a Swiss bank to hold you fund, which are then insured by Swiss law up to 100'000CHF against a bank bankruptcy. But depending if you have already another Swiss bank account that you really would like to keep (if possible a free one as well) you might be OK with Wise, depending on the others scenarios below.
Scenario 2: Withdraw money in Switzerland and abroad
Here I will compare the person that need to withdraw cash in Switzerland and abroad. Here I will just give you the fees rates as they might be quite easy to understand but complex to calculate in real usage.
Neon offer 2 withdrawals in CHF in Switzerland per month, then it's 2CHF per withdrawal. While abroad they charge 1.5% of the among without any minimum neither any limits in number of withdrawal. They have currently the most simple fees for withdrawal in my opinion. Note that Neon has a limit of withdrawal of 1000CHF per day.
Revolut offer free withdrawal up to 200CHF per month, above that limit you will get charged 2 % but minimum 1CHF. It's interesting for withdrawal below 200CHF but then it starts quickly to be more expensive than Neon, especially if you withdraw on weekend when then the stock markets are closed and you get the 0.5% extra fee. Even worst, if you withdraw 200EUR, you will be slightly above the 200CHF limit and thus will be charge the minimum fee of 1CHF, so you have to do you math to withdraw always less than 200CHF in the equivalent local currency and then at least 50CHF above the remaining limit to optimize the fee. And in any case if you end up above way above 500CHF per month, Neon is again cheaper. On top of that you are still within your limit of 1250CHF free exchange rate per month, so if you purchase a lot with your car of did some other operations involving a currency exchange, you will have the additional 1% fee on top of the exchange rate and on top of the 0.5% weekend fee… Note that if you withdraw in Switzerland or anywhere abroad, the fees are the same and Revolut has a limit of withdrawal of 3000CHF per day (higher than Neon).
Wise is somewhat in between Neon and Revolut but with an even more complicated fee shame. Here the limit is based on GBP, as it's a company based in UK (Revolut is in UK as well but they adapted the limits for the customer currency of residency, so CHF for Swiss, GBP for UK, EUR for EU…). Wise will allow you up to 2 free withdrawals and up to 200GBP (about 255CHF as of today) every month. So first you have to make sure that you withdraw large among at the time to optimize the limit within the two free withdrawals allowed. Once you have reach either two withdrawals or 200GBP, you start paying as follow: 1.5% + 0.5GBP per withdrawal.
Summary: if we strictly look at withdrawal, Wise is the cheaper. Often slightly cheaper than Neon but with still some scenarios where you do several smaller withdrawal where Neon come cheaper like 8 withdrawal in a month of 125CHF (1CHF cheaper…) or 20 of 100CHF (15CHF cheaper). But as long as you withdraw a lot at the time, like 200CHF per withdrawal you should end up better with Wise. Thus if for any reason from the other scenarios you end up with Neon and Revolut, you can combine the advantage of both, that is withdraw up to the free limit with Revolut and then use Neon above it, and you would almost always end up cheaper or extremely close to Wise fees.
Scenario 3: bank transfer
In this scenario I would compare the possibilities and fees for the bank transfers in Switzerland and abroad.
Neon is using a Swiss bank in the background, the Hypothekarbank Lenzburg if you are interested. It means that on top of the fund insured by Swiss law up to 100'000CHF, you have all the advantage of Swiss bank like having an IBAN in Switzerland (starting with CH, because most banks will charge a fee to send CHF to an account that is not located in CHF), having eBill and be able to transfer CHF for free to any Swiss bank account to pay your bills and send money to people. However when it comes to transfer money abroad, in another currency, they use the service of Wise to do it, with an additional fee of 0.4%. That funny because they are kind of competitor but also partner for this service. Here the fee are not clear as if depend of which currency you send to which country. The total fees advertise are between 0.8 % and 1.7% (including the currency exchange rate of course).
Revolut is much more generous in bank transfer as you are allowed to do unlimited bank transfer for free and the transfer, without opening time of banks, are extremely fast. It took many less than 15min to transfer money in CHF from my Revolut account to my Neon account! I was so surprise that it arrived so fast, as I'm used to have a bank transfer validate at best the next day with all Swiss banks (including Neon), that I made immediately a second 20CHF transfer just to test it, and yes it arrives in 11min this time. It means that Revolut is not batching the bank transfer like every other banks, they execute your transfer immediately, a service that most retail customers would never have access to, even by paying a huge fee for an express transfer, it can still take several hours to arrive and here it's free! Note that the receiving bank must accept to proceed the incoming transfer immediately as well, so I'm not sure if it's a majority of banks in Switzerland (and abroad) that allow that, but I would hope that if Neon can, any large bank in Switzerland would do as well. The only down side with Revolut is that you still have the free currency exchange rate up to 1250CHF, then you add a 1% fee but still you could receive and hold EUR, USD, GBP and many other currencies in parallel to CHF in your Revolut account and then use them to do free instant transfer in many countries.
Wise as we have seen above is not free but comes with extremely competitive cost for international transfer. And for a reason, they started as a money transfer company, you would have to send them one currency on a local IBAN and they would send it to the wished final account in the selected final currency. Then they add the multi-currency account product that came with a free debit Mastercard. The total fees advertise are between 0.4 % and 1.3%. It means that it will always be 0.4% cheaper than using Wise with your Neon account and you will not have any limits like Revolut. Regarding transfer speed, I couldn't test myself but from screenshots on Wise website it looks like an international transfer could go through in 4min, so it's also an advantage against all the Swiss banks. On the down side, one thing to take care is that Wise charge 0.4% of negative interest once you have more than 15'000 EUR on your EUR account. Apparently it's only with EUR, so if you hold other currencies it might be fine, but to be double check.
Winner of transfer, is between Revolut and Wise. If you do transfer abroad only occasionally and within small among (less than 1250CHF per month), you can stay with Revolut, otherwise Wise come better. And in both cases if you don't have any other bank account in Switzerland I would keep Neon to use it in Switzerland first to have access to eBill, that are extremely practical and more importantly to be insured by Swiss law again bank bankruptcy, as Revolut and Wise are not real bank and this your fund are abroad and not insured, I would not recommend to hold large among of money in these companies if you don't need to.
Additional interesting features
These services comes with other interesting features. They all offer you to add you card to Apple Pay of Google Pay. While Neon and Wise offer only a physical debit Mastercard, Revolut also offer physical Maestro or Visa (you can choose on or both, you pay just 5CHF per card you order). There might still be some rare places, especially in Germany in my experience and even sometimes in Switzerland were the Maestro is accepted and not the Mastercard. But on the other hand it might not both you and you can still pay in cash for the rare case you cannot use the card you have on you, up to you.
Neon
As said before the largest benefit of Neon is that it's based in Switzerland, so you have some advantages of a Swiss bank.
Neon have negotiated discount with other services like robot-advisor, third pillar 3a account, Qoqa for shopping deal and insurances with Smile Direct. I would at least recommend the insurances discount with Smile Direct that is already the cheapest insurance company in Switzerland for your car and household.
Another new advantage of Neon is that you can block and unblock your card from the app, you could even unblock it only to make a purchase or if you ha to leave your card in some place not 100% safe you might keep it blocked until you really need it.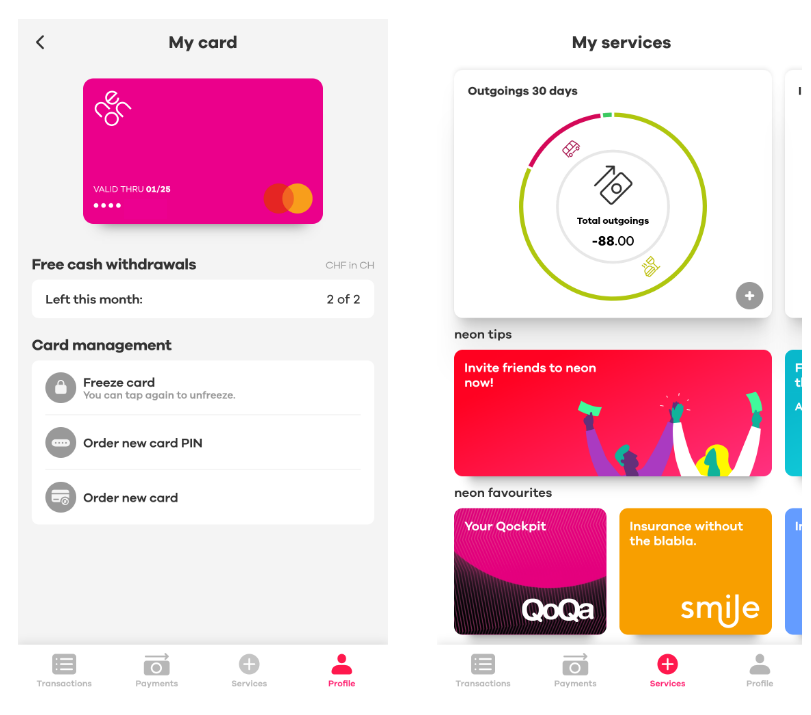 Revolut
Beside the instant bank transfers, I like the possibility to have virtual debit card for online payment and they even add the options to use disposable cards for free (it used to be only for premium users), it's an option that allow you to pay with a unique card number that will be destroyed as soon as it's used and thus you will never be charged again with this card number. You can use it with untrustworthy websites to do a purchase or with online services to try their free trial and don't be charged after the trial period as you can destroy the card right after.
Another interesting features of Revolut is the total control you have on your cards. As with Neon you can block and unblock your cards for free as much as you want (I remember my bank charging me 40CHF for this and you cannot revert it, then you need to get a new card by mail). But with Revolut you have a much more control over all of your cards. You can ge-block them by country, you can block them for online purchases, physical purchases or ATM withdrawal. You can even activate or not the magnetic stripe (used old card payment, like on highway toll or gas station), same for the contactless payment you can block it or not and even reset manually once you have reach the limit to continue use it and finally reset the PIN yourself if you happen to block it with 3 false PIN entry. Finally you can set limits of spending, even different once for each of your card. All of these actions usually require you to call you bank and pay fee sometimes, but here it's free and you can do yourself as much as you want, I guess that they save on support as you don't need to call them for small mistake with PIN or to block a stolen card and then unlock it because you found it back finally.
And that's not all, Revolut offer others features like a second card for your kid that you can control individually with smaller limits, possibility to split bills with your friends and send money instantly to any of your contact using Revolut (by sharing phone number). Imagine your are abroad with no more money on your card, you can call a family or friend that use also Revolut and if he has money on his account, he can you send it to you in seconds so you can pay or withdraw for an emergency (I saved family member from an unfortunate situation at least twice with this).
Finally if you are a bit comfortable with exchanges, you can play with the market exchange rate to get you a better rate in some cases, as you have a multi-currency account, you can exchange at will (within the 1250CHF/month limit for free) between currencies you hold and you don't have to do it at market price. You can place, like on trading platform, a limit order or even a stop loss. I'm not sure in which scenario a stop loss would be useful beside speculating, but limit order might allow you to set a slightly more favorable exchange rate and if you are not too greedy (stay within the daily variation of the exchange rate), your order might pass in the following hours with a better rate than the instant one, saving some more cents on the way.
They are other features that I don't use, like cryptocurrencies trading and commodities (gold, silver) trading. The reason is that in both case you don't really hold these while trading on Revolut, especially for cryptocurrencies, you are only allow to buy them from Revolt and sell them back at a later date still in Revolut. You can not get incoming transaction from another (Bitcoin or Ethereum) wallet, neither you can send out your cryptocurrencies. And more importantly you are not in control of your private key, it means you don't own these cryptocurrencies and they are not really insured. Cryptocurrencies is a whole different topic that I will cover in other articles, but please avoid using this feature on Revolut.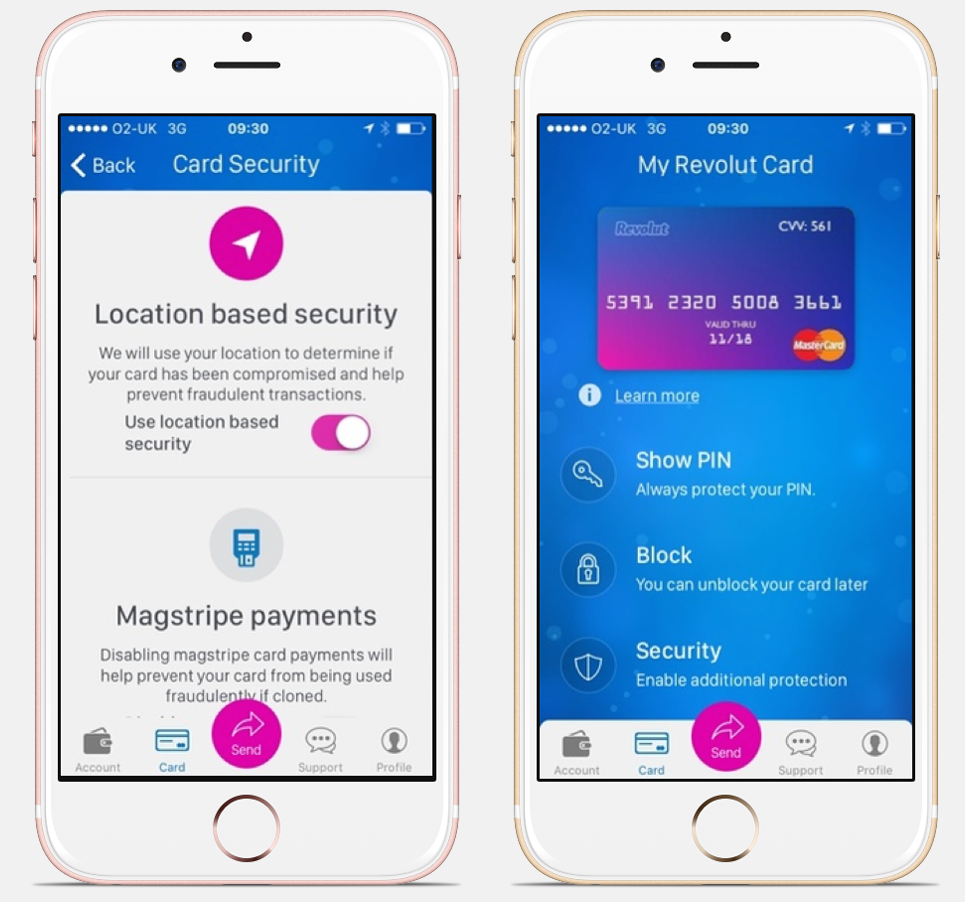 Wise
Finally I cannot talk much in detail about the advanced feature of Wise as I not using it at the moment, so I used only information from their website. Their advantages are the 10 currencies account with a local bank account but CHF is not included unfortunately (check the list, beside the classic USD, EUR, GBP, there might be special currency that you interact a lot with) as well as 56 currencies that you can hold (thus 46 without a local account, you can only transfer them with Wise, by paying their fees I guess). It's more than Revolut that has 23 currencies. From the screenshot below it also looks like Wise if doing instant transfers, thus I couldn't test a transfer in CHF to a Swiss bank account, I assume that it would be as fast as Revolut.
Most people in Switzerland would need only CHF, EUR and maybe USD or GBP so it's up to you to check what you need and if it's covered by Wise or not, you might be in a special use case only covered by Wise and their 46 currencies or you might only use the card to pay abroad if you want to.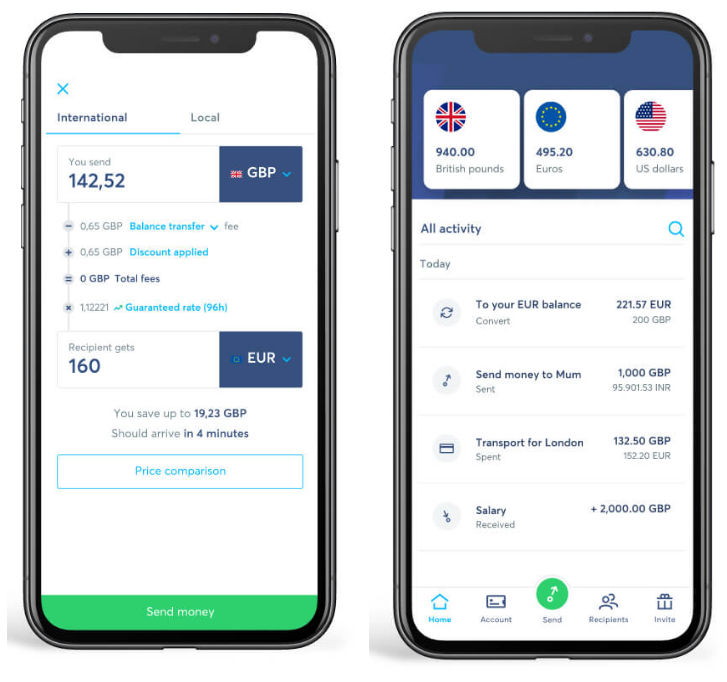 Conclusion
Going through these scenarios and features I hope you got a clear view of the possibilities. If you don't have any other bank account in Switzerland, I would recommend to have at least Neon, and if you do only rare international transfer and either small or quite large abroad withdrawal, Neon only might be enough for you. Also it's the less complicated setup, if you have to recommend an account for traveling to family and friend, I would better recommend Neon as it's much more simple and you don't have to ask yourself if you are withing the free limits and if the stock market if closed or not. The app is also much more simple to use and having you own CH IBAN to top up avoid the confusion with reference number that must be entered for a bank top up using the Credit Suisse CH IBAN from Revolut (their solution to top up without fee for Swiss customer).
If you already have a (free, hopefully) bank account in Switzerland, for example you have joint account something not possible with these services (Neon might add it later according to their website) and you only need a card to pay and withdraw abroad without limit on the free currency exchange and/or you do regularly large international bank transfer, Wise might be the best solution to not have to carry and manager a lot of different services.
In my case I was a Revolut user before neither Neon and Wise exist and I continue using it at least for the free 200CHF withdrawal (then I use Neon after that), to use the virtual disposable cards online and the instant and free international bank transfer (as I rarely if never reach the 1250CHF limit for this usage). If you don't need these special features, I would say that Revolut is not really interesting and is too complicated (especially in the fee calculation) to bother with it.
You can check these 3 services here:
Neon
Revolut
Wise
Support me
If you like this article, thanks to add the blog RSS to your favorite RSS reader (I recommend Feeder on Android by the way) or follow @eluc on Mastodon or @ElucTheG33k on Twitter to not miss any future post.
I would also add that I did wrote this article on my own initiative. This only reflect my point of view and information given are without any guarantee of correctness, please double check by yourself when subscribing to any of these service and check regularly as conditions and fees might change at any time, for better or worst, as it was already the case many time since I use these services. Finally I insistant that I'm not paid or get any incentive from the mentioned companies. Some, and others not listed here that I might use as well, does offer permanently or temporary some referral code that would generally give a small bonus to the new user as well as the referral (like Neon offer 10CHF for each). I didn't place any affiliation link in this article but if you are willing to support me by using one of my code, please leave a comment and I will share it with you.