Introduction part 4 – The online life before Facebook
This post is part of the introduction series. If not read already, I recommend to start with the Introduction part 1
At the time the early web users were slowly figuring out that it is not only about connecting some students from the same school or town, or about having another way to read your local newspaper. Internet is not called the world wide web for nothing, the entire world was getting connected at a tremendous speed. While Gmail was still in invite only and almost nobody was talking about Google, internet already had its stars. Yahoo, AltaVista, Lycos, Caramail and some others were kings in the place.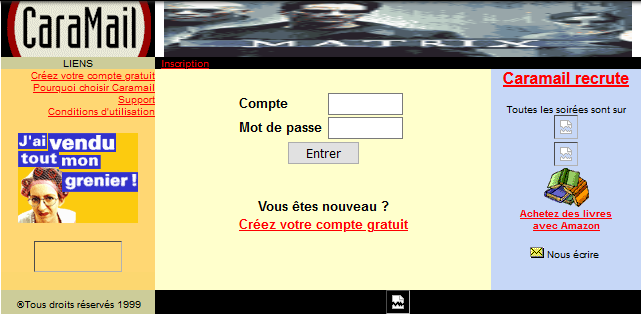 Around the same time I bought my first digital camera and start shooting the best moments of my life. But then how to share them with my friends and family online? There was no Facebook at the time, it was about to be launch in US only a couple of years later and didn't reach Europe for another two or three years after launch. Back to my favorite HTML editor, I created mostly "a la mano" my third website. This time it was all about me, you could find my latest holiday at the beach with my family, the most famous and very closed student parties in someone backyard and my last theme park visit. As you should know, I'm a huge theme parks and rollercoasters fan, which were the topic of my very first website. Even if I will not talk about rollercoaster in this blog, don't be surprise if I mention it from time to time.
Funnily enough, while searching for this post to find a screenshot of how the website looked like, I figured out that it was still online somewhere and displaying a lot of personal information already on the front page. I disabled the link to other pages at the time I stopped updating it but everything was still there if you guess the very obvious page name or just available from a search result in DuckDuckGo or Qwant. What a privacy disaster for someone like me. I was very lucky to find back the password associated to the account where it was hosted because I found out on a forum from the internet provider hosting these personal website for free during almost two decades that many people were having trouble to delete their old website after loosing their account username or password. I looked back for the FTP server address and could manage an ultimate backup before a complete wipe out. Pfff, I'm offline now or am I? The website is still indexed in search engines and archived by TheWayBackMachine from archive.org. So my twenty years old younger me as well as all my friends at the time are still haunting the internet probably forever. This is an excellent opportunity for an article. Later I will try to eraser all traces of the website and document it on the blog if I succeeded or not. If I do, I promise to share this time the actual screenshot of it, for historical purpose.